Unleash Creativity with Skyaltum: Your Visual Storytellers in Bangalore!
In today's digitally-driven world, a strong visual identity is paramount for any business looking to stand out and make a lasting impression. This is where Skyaltum, a leading graphic design company in Bangalore, steps in. With a team of highly skilled and creative graphic designers in bangalore, Skyaltum is dedicated to transforming your ideas into captivating visual experiences that resonate with your target audience.

Crafting Visual Stories with Graphic Designers in Bangalore
At Skyaltum, we take pride in our team of expert graphic designers in Bangalore who possess not only the technical prowess but also an innate artistic flair. Our designers are passionate about creating visual stories that communicate your brand's essence effectively. Whether it's a captivating logo,
a visually stunning website
, attention-grabbing marketing collaterals, or engaging social media graphics, our graphic designers have the expertise to bring your vision to life.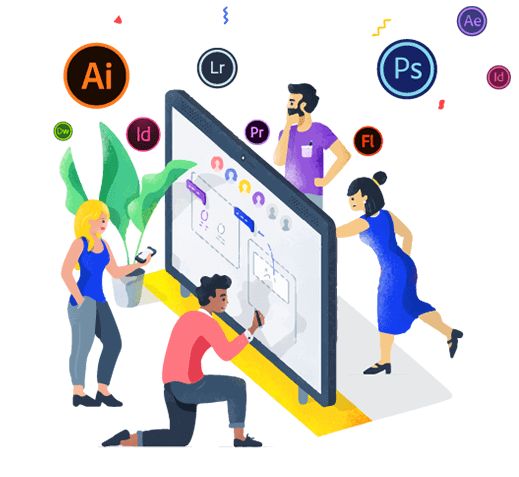 Why Choose Skyaltum - Graphic design company in Bangalore?
There are several Graphic design companies in Bangalore competing for your attention. Here's why you should choose Skyaltum.
✅ 1. Creativity at its Best:
Our graphic designers are renowned for their innovative thinking and unique approach to each project. We believe in pushing the boundaries of conventional design to create something extraordinary that resonates with your brand identity.
✅ 2. Strategic Design:
Our design process is not just about creating visually appealing graphics. We strategize every design element to align with your business goals, target audience, and market trends, ensuring maximum impact.
✅ 3. Tailored Solutions:
We understand that every business is unique. That's why we offer customized graphic design services that cater to your specific needs. Whether you're a startup or an established enterprise, we have solutions that fit.
✅ 4. Collaborative Approach:
We believe in the power of collaboration. Throughout the design journey, we work closely with you, valuing your input and feedback. After all, you know your brand best, and we aim to translate that knowledge into design.
Skyrocket Your Brand with Skyaltum - Your Graphic Design Partner
Collaborating with Skyaltum extends beyond the conventional act of enlisting a graphic design company in Bangalore. It signifies relying on a team that is wholeheartedly committed to the triumph of your brand's visual essence. Our approach involves synergizing your ambitions with our proficient design acumen, resulting in captivating visuals that imprint an enduring resonance. When you choose to partner with Skyaltum, you're choosing more than just a service; you're choosing a dynamic relationship that encapsulates the essence of your brand. Our dedicated team goes beyond the surface, delving into the core of your aspirations, and skillfully merges them with our creative finesse. The outcome is a tapestry of visuals that not only captivate the eye but also etch an indelible mark in the minds of your audience, leaving a profound and enduring impression. Services Offered by Skyaltum - Graphic Design Company in Bangalore Our comprehensive graphic design services encompass a wide range of solutions that cater to your diverse needs: ✅ 1. Logo Design: A logo is the face of your brand. Our graphic designers craft logos that encapsulate your brand's essence, making it memorable and recognizable. ✅ 2. Web Design: In the digital age, your website is often the first interaction customers have with your brand. We design responsive and user-friendly websites that not only look stunning but also provide a seamless user experience. ✅ 3. Print Design: From brochures to business cards, our print designs are tailored to reflect your brand's personality and professionalism, leaving a lasting impression on your audience. ✅ 4. Social Media Graphics: Catching the eyes of your social media audience requires striking visuals. We design graphics optimized for various platforms that resonate with your followers. ✅ 5. Video Editing: Our video editors transform raw footage into compelling stories that resonate with your audience, enhancing your brand's storytelling. ✅ 6. Branding Collaterals:
Consistency is key in branding. We create a range of collaterals, including letterheads, envelopes, and presentation templates, ensuring your brand's visual identity remains cohesive.