Dedicated to Designing Meaningful Brand Experiences Best Graphic Design Company in Bangalore.
In today's competitive and highly-digitized business world, web graphic design is a vital tool for attracting customer attention. With the right graphic design, your website will only need a few seconds to attract & entice target customers. They can be subconsciously compelled to stay & explore your website. More importantly, websites with premium-grade graphic design stand out from the crowd. They distinctly shape the unique identities of the brands they represent. Skyaltum is one of the best graphic design company in Bangalore and we've created graphics for hundreds of successful websites. We know how to give our clients' business websites, unique identities that express and represent their target customers' needs & preferences.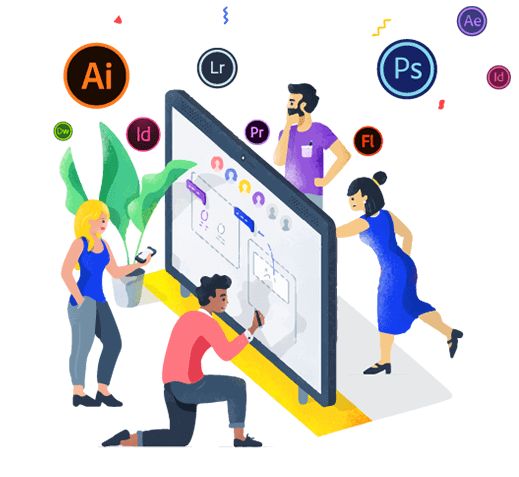 The first impression in the eyes of the customer needs to be efficient enough. We understand this criterion well. So our team pours out all their creativity while designing a graphic idea. Our designers take some time to understand the requirements of the client and create stunning graphics accordingly. Graphics for digital ad campaigns, ad creative, graphic and motion design posters for your online marketing campaigns, graphics for establishing your brand identity on social media websites- Skyaltum's experienced graphic design team can create all types of high-end graphics for your brand.
Skyaltum, one of the Best Graphic design company in Bangalore
Our service for graphics design primarily centers on producing an exclusive podium for the client to represent their company. The different sectors where you can check our expertise are as follows. ✅ Brand and Identity Designing We create the corporate identity of the client company, its logo, and its brand. These are the most visible tools that will connect you to the targeted customers. ✅ Customized Logo Designing Being an elite Top and Best Graphic Design Company in Bangalore, our graphic squad offers professional, meaningful, and personalized logo design for reaching all global customers with a distinctive identity. ✅ Stall Designing At Skyaltum, we empower corporate companies and brands by offering a turnkey solution through stall designing. ✅ Flyer and Brochure designing All the brochures and flyers crafted by Skyaltum take the client venture to its zenith. ✅ Designing of Ads Ad designing services by Skyaltum are primarily motivated by a persuasive principle of delivering only creative advertisements and nothing else. ✅ Branding of company vehicle If you are offering any services or products, you can create a branding of your store by advertising it on the company vehicle with our vehicle branding and designing services.