Bulk Email Marketing Services in Bangalore
In the competitive world of digital marketing , it is not easy to promote any business via any digital platform. Email marketing, especially Bulk emailing is not as simple as it may sound. To send successful bulk emails, there are a ton of issues that one needs to resolve beforehand. They may vary from privacy issues to permission limits and technical bugs to track your heavy amount of email data.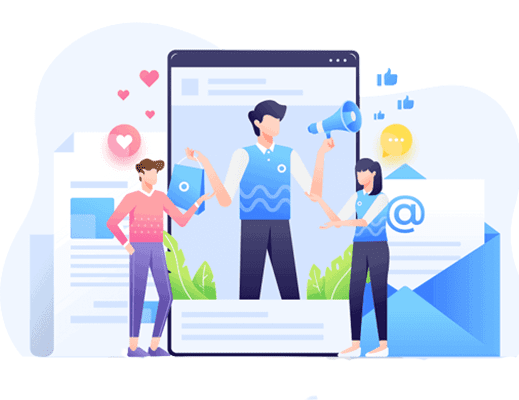 ✅ What is E-mail Marketing? Email Marketing is the direct form of marketing with a simple goal of promoting businesses. It is used to generate the relationship between the business entity and its potential customers. It helps in keeping current customers in touch and updating them regularly. Offers & coupons sent via Email marketing aids in an increment of customer loyalty and satisfaction. It is a cost-effective and environment-friendly source of marketing as it is completely paperless. Though, email cannot be used as a mass mailing tool. But email marketing has converted the one-way of communication into a custom-made interactive platform. ✅ What are the benefits of email marketing? • Email marketing helps in improving the business relationship between client and company reaching out to bigger audiences. • About 94% of the total Internet users use email. Thus email marketing increases the reach of product or service to its prospecting customers. • Good email marketing software helps in tracking the ROI. It also tells that who all are opening your website through emails. • The ROI in email marketing is usually high as there is zero investment with the highest possible returns. This makes the email as one of the cheapest marketing techniques. • Email reach is far wider as compared to the SMS and MMS because they can reach to the mobile as well as the desktop users.
Leading Best Email Marketing Services in Bangalore
Skyaltum provides Best Email Marketing Services in Bangalore. Our team of experts provides customized service solutions as per the business type and industry trends. This increases the effectiveness of bulk email marketing. Our digital marketing team designs every email campaign aiming only at the promotion of your business. An insight report will be generated within 24 hours aiming at the improvement of the next campaign. This aids in the generation of digital interactivity within emails. Thus aids in increasing conversation rates of prospective leads to an existing customer. One can easily do an email promotion within their entity. But we would like you to give away the bulk email responsibility to the professional service provider. This will help to attain guaranteed results and with extraordinary specifications at important segments. Our team of experts works very systematically. From recognizing automatically generated email addresses to human-generated email addresses. Ensuring the correction of mistakes made while entering the recipient's names. Constructing good email formats along with the proper salutations and so on. This enhances the quality of your emails along with the higher chances of lead conversion.